Biography
Biography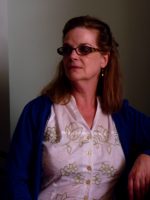 Rosalind Whitman studied Fine Art in Sheffield, and Printmaking at the Slade School, University College, London. In 1985 she set up a printmaking studio, creating and marketing etchings, as the Rasama Press. She has participated in numerous exhibitions, in London, throughout the UK, and abroad – in Paris, Bulgaria, Germany, Australia, the USA, the United Arab Emirates and Indonesia.
For a number of years Rosalind worked as a Lecturer at the Cordwainers College, and at The London College of Fashion. She has devised and taught courses on the Outreach Programme with the Prince's School, notably at the Icherisher Centre for Traditional Arts in Baku, Azerbaijan. She also teaches master classes to individuals studying printmaking in her studio in Hackney.
Rosalind makes art from imagination, from dreams, and on occasion, stimulated by works of literature. She produced a series of etchings inspired by Emily Bronte's Wuthering Heights. This was exhibited at the Brontë Parsonage Museum, Haworth, in Yorkshire in 2003, and has subsequently been shown in a variety of other venues.
But many of her prints were made in response to periods of travel at home and abroad, presenting images of Southern Spain, Egypt, Yemen, and Indonesia. These etchings include works featuring Islamic architecture, Hindu/Buddhist antiquities, figures, landscape and scenes of cultural interest.
Recently she pursued a programme of study at the Prince's School of Traditional Arts, gaining her doctoral degree in the field of Arts Practice as Research in 2017. This enquiry concerns the role of Creative Imagination in Arts practice. It examines the phenomenon of 'transformation' which is reflected in both the material processes used to bring imagery into being, and the bearing which these transformations have for the artist and the world. This approach led her to compare the practice of making art with the Alchemical Process, and from there – in works carried out in the present day- to reactivate symbols exemplifying values cherished in European medieval and Renaissance Arts practice.
For her practical research, while continuing to make etchings, she explored early painting methods and materials and traditional bronze relief and sculpture. Examples of early works provided models and exemplars as learning tools, and also the means to reach a deeper understanding of pre-modern approaches to the role of art, its practice, and the medieval aesthetic.
Publications and citations
'Black and White in Wuthering Heights: The Etchings of Rosalind Whitman', Dolores Le Fanu, Brontë Studies, Vol. 28, November 2003.
https://www.tandfonline.com/doi/abs/10.1179/bst.2003.28.3.237?journalCode=ybst20 
Printmaking Today: Contemporary graphic art worldwide, Spring 2003, p17
'The Peacock's Tail: Etching as an Alchemical Journey', Borders and Crossings: The Artist as Explorer, Rosalind Whitman, Impact 8 Conference Proceedings, Dundee 2013 http://www.conf.dundee.ac.uk/impact8/people/biographies-2/rosalind-whitman/ 
Emily Brontë's Darkling Tales, Sarah Wootton, Romanticism 22.3 (2016) 299-311, Edinburgh University, 2016 https://www.euppublishing.com/doi/abs/10.3366/rom.2016.0291 http://dro.dur.ac.uk/19827/1/19287.pdf

'The Ever-Shifting Kaleidoscope of the Imagination': Modern Illustrations to the Bronts , Simon Cooke,

Brontë Studies

Vol 31 (1) March 2006 https://www.researchgate.net/publication/233698685_ 'The_Ever-Shifting_Kaleidoscope_of_the_Imagination'_Modern_Illustrations_to_the_Bronts
Affiliates and memberships
East London Printmakers 

The Prince's School of Traditional Arts – specialising in the practice and theory of the arts and crafts of the world's great traditions

ArtCatcher –

London based Art Catcher Ltd specialises in curating group art exhibitions in the UK and abroad with a main focus on subjects of cultural and emotional identity.

BiasArts – The British Indonesian Artists Society, Brighton