Biography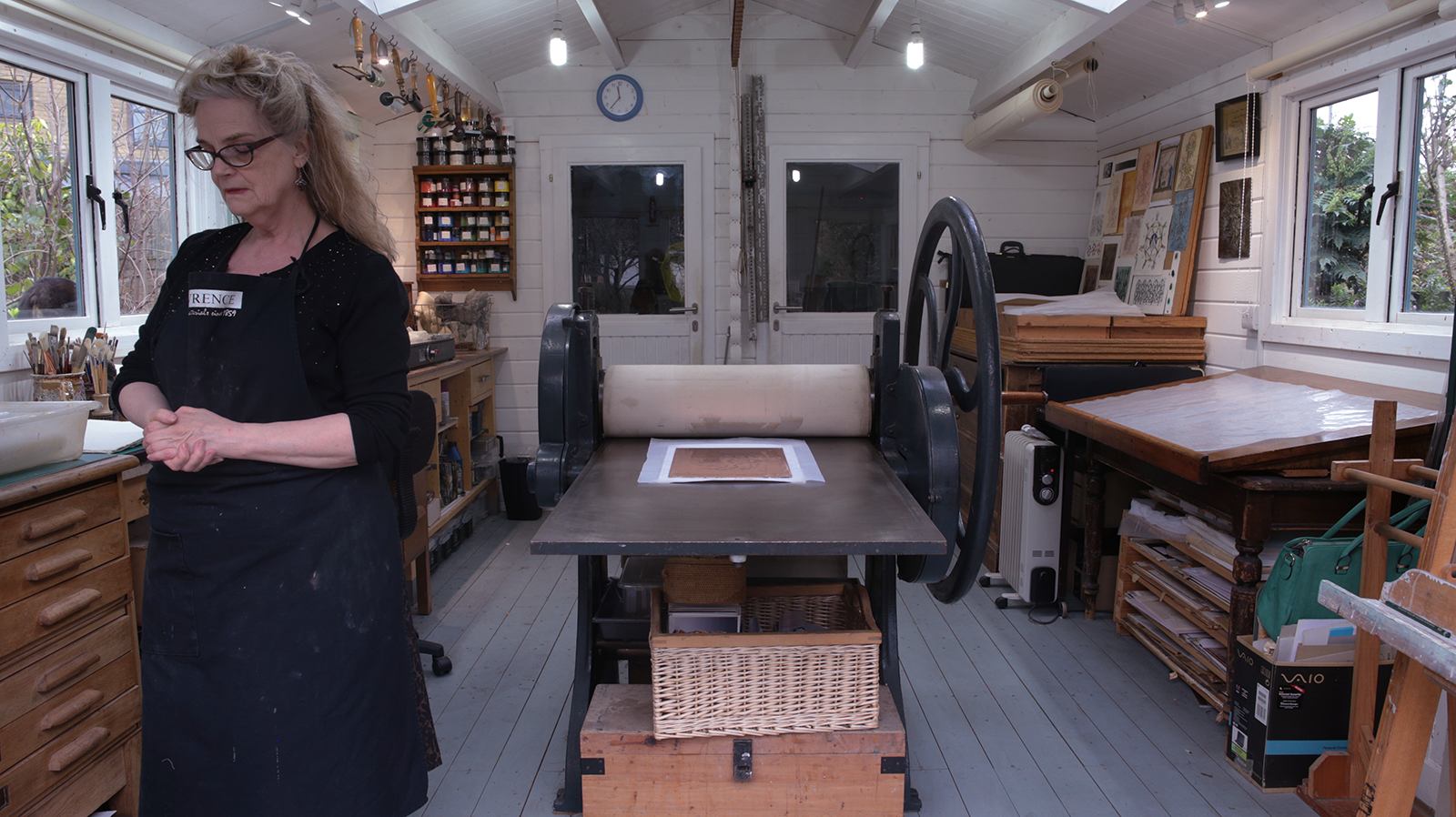 Rosalind makes art from imagination, dreams, and mythology. A recent series of prints and relief sculptures explores the story of the Greek goddess Demeter, mother of Kore/Persephone, the daughter who is abducted by the god Hades and transported into the Underworld – the dwelling place of the Dead, where – it was also believed – we inhabit when we sleep, as dreamers.

A number of her panel paintings and etchings were inspired by early alchemical treatises. Believing strongly that the object of their research was to access a spiritual dimension, alchemists contributed to the discovery of many of the materials and processes which have been used in fine arts and crafts practice in diverse cultures from antiquity to the present. Rosalind sees the art of etching– with its reliance upon metals, acids and resists, and upon the processes of controlling the 'elements' (fire, air, earth and water) for purposes of transformation – as one example of a discipline which has a marked and particular affinity with early alchemical practice.

Her series of etchings inspired by Emily Bronte's Wuthering Heights encompasses themes such as heaven and hell; love and loss; and experiences remembered and re-visited. Within Bront's narrative all is subject to a continuing process of transformation. This unceasing sense of unfolding suggests an alchemical conceptualisation – both in regard to the cyclical metamorphoses taking place in Nature, and in – the dynamic and violent family struggles recurring across generations. This series of etchings has been exhibited previously at the Bront Parsonage Museum, in Haworth. and has subsequently been shown in a number of other venues.

Many of Rosalind's works in the past were made in response to periods of travel abroad – presenting images of Southern Spain, Egypt, Yemen, and Indonesia. These etchings include works featuring Islamic architecture, Hindu/Buddhist antiquities, landscape and scenes of cultural interest.

Rosalind Whitman studied Printmaking at the Slade School, University College, London. And in 2017 she gained her PhD by Practice at the Prince's School of Traditional Arts. She has worked as a freelance lecturer in Art and Design at The Prince's Foundation School, University of the Arts, London; and the Cordwainers College. She has exhibited as a member of various art collectives including East London Printmakers; Art Catcher; The Printmakers Council and Greenwich Printmakers. Throughout her career she has participated in mixed shows, in London, across the UK and abroad – in Europe, Australia, the USA, the United Arab Emirates and Indonesia.
Publications and citations
'Black and White in Wuthering Heights: The Etchings of Rosalind Whitman', Dolores Le Fanu, Brontë Studies, Vol. 28, November 2003.
https://www.tandfonline.com/doi/abs/10.1179/bst.2003.28.3.237?journalCode=ybst20
Printmaking Today: Contemporary graphic art worldwide, Spring 2003, p17
'The Peacock's Tail: Etching as an Alchemical Journey', Borders and Crossings: The Artist as Explorer, Rosalind Whitman, Impact 8 Conference Proceedings, Dundee 2013 http://www.conf.dundee.ac.uk/impact8/people/biographies-2/rosalind-whitman/
Emily Brontë's Darkling Tales, Sarah Wootton, Romanticism 22.3 (2016) 299-311, Edinburgh University, 2016 https://www.euppublishing.com/doi/abs/10.3366/rom.2016.0291 http://dro.dur.ac.uk/19827/1/19287.pdf

'The Ever-Shifting Kaleidoscope of the Imagination': Modern Illustrations to the Bronts , Simon Cooke,

Brontë Studies

Vol 31 (1) March 2006 https://www.researchgate.net/publication/233698685_ 'The_Ever-Shifting_Kaleidoscope_of_the_Imagination'_Modern_Illustrations_to_the_Bronts
Affiliates and memberships
East London Printmakers

The Prince's School of Traditional Arts – specialising in the practice and theory of the arts and crafts of the world's great traditions

ArtCatcher –

London based Art Catcher Ltd specialises in curating group art exhibitions in the UK and abroad with a main focus on subjects of cultural and emotional identity.

BiasArts – The British Indonesian Artists Society, Brighton